HAPPY TALK 2011
The Happy Talk project was held in Sandringham Gardens, Hyde Park from September 23 – October 23, 2011, as part of Art & About Sydney. Inspired by resourcefulness, local materials and knowledge, and our Pacific neighbours, the project included talks, workshops, artwork commissions and performances over the four week period.
Thousands of people came to enjoy the event, and the audience included local city workers, tourists, local residents, children, students, and an extremely broad range of people. The age group ranged from 0 to over 80, with a strong mix of both men and women from different backgrounds.
The four nights of talks included fifteen speakers, with hundreds of guests. Speakers included artists Maryann Talia Pau and Sione Falemaka, a range of speakers from the Oceanic Arts Society, Mano Ponambalam, and an action packed evening of Pecha Kucha. The Pecha Kucha included artists, designers, architects, and a local beekeeper. More details of the event and speakers here.
Workshops were very popular, and many visitors came back again and again. Lovely friendships developed between the participants over the month, and the audience was very varied and diverse. There were a total of 17 formal workshops during the project, and 10 days of informal workshops.
Friday Lei Day workshops, a Pacific symbol of greeting and welcome involved artists Maryann Talia Pau, Sione Falemaka and Tracey Deep. Techniques taught included traditional Pacific weaving, beading and knotting amongst others. Materials were mainly recycled and organic. Weekend workshops were very popular, and included a broad range of materials and techniques. Bike tray making from recycled materials by Sydney Cycle Chic attracted a large crowd, and many of the participants rode away with their new creations.
Artist Sione Falemaka attracted a strong and loyal group of people who enjoyed learning a variety of weaving techniques at the workshops, including bike basket making from packing straps. It was great to see the way everyone personalized their baskets and shared knowledge. People seemed to love the experience of working directly with the artist, and the artist loved working with a new audience.
A woven cubby house made with children from recycled materials by architect Sam Marshall and Alanna Baudinet for the Sydney Architecture Festival attracted a large and enthusiastic crowd, who enjoyed learning new weaving techniques and team collaboration to create an new environment.
We were joined by local artists from the Cook Islands who shared the skill of traditional Tivaivai embroidery. The tarpaulin covering of the Happy Talk house was inspired by Tivaivai, and people enjoyed learning about the tradition and history.
Local and New Zealand artists came to teach the art of poi making and performing. They performed traditional dancing, and sang beautiful songs, accompanied by guitars and drums. The Phoenix group performed a play one evening, which attracted a large and new audience.
The WeAve group from Parramatta joined us at the Happy Talk house for a special afternoon Pacific weaving workshop. They also toured the Australian Museum nearby. It was the first time many of the participants had been to the city, and we were very happy to welcome them. Artist Florence Kamel and a group of weavers from Goroka PNG were commissioned to produce a large bilum wall hanging that was featured in the Happy Talk house. Happy Talk satellite events were held at The Papermill, and included weaving, book binding, lei making and upcycled furniture making. The workshops and talks were well attended and enjoyed by the public.
The opening night launch attracted hundreds of people, and celebrations continued well into the night. We were joined by a lovely and diverse group who enjoyed the official welcome to country by Michael West, and a traditional Pacific welcome by performers from the Cook Islands.
The atmosphere of the Happy Talk house was very welcoming, inviting and relaxing. People frequently mentioned how they felt a sense of calm, and happiness, and some felt that their blood pressure was lowered after spending time in the workshops. Everyone was encouraged to sit down and create something with the materials provided, or just spend some time relaxing in the hammock or taking time to sit, relax or chat. There was lots of interest and discussion about the commissioned works, and works created during the project, as well as personal experiences that related to the Pacific or resourcefulness or the handmade.
The closing night celebrations were a time to come together to share outcomes created during Happy Talk, and meet friends. A group of Pacific Islands performers entertained the crowd with dancing and singing that took people on a journey across the Pacific islands. The table was set with local and traditional food and drink, and the house was packed with people enjoying the happiness.
WORKSHOPS
LEI DAY
Across Pacific Island communities, lei giving is a gesture of welcoming. The Lei Day lunchtime workshops were designed to bring people together during the creative process of making. Materials supplied included flowers, shells, ribbon and other found materials.
Workshop leaders:
Artists Maryann Talia Pau, Tracey Deep and Sione Falemaka.
BICYCLE
Happy Talk Bicycle workshops included colourful basket making and accessory making for your bike using local and found materials. A series of four workshops involved artists Maryann Talia Pau and Sione Falemaka, and Sydney Cycle Chic's Saskia Howard, who lead participants in the making of woven baskets, trays, reflective bicycle straps, tassles, spoke stars and bicycle skirt weaving.
Workshop leaders:
Maryann Talia Pau, Sione Falemaka and Saskia Howard.
TIVAIVAI
Tivaivai is the colourful art of appliqué made by women across the Cook Islands. A collaborative practice, the tradition is handed down from one generation to the next. The Tivaivai workshop lead by Mereana Taruia explored the tradition within the Happy Talk House's city context.

Workshop Leader:
Mereana Taruia
POI POWER
The traditional New Zealander art of poi making was explored with adults and children in a fun and interactive weekend workshop.
HAPPY TALK HOUSE PROJECT FOR SYDNEY ARCHITECTURE FESTIVAL
Inspired by the inventive building skills of Pacific Island communities, the Happy House building workshop lead by architect Sam Marshal and Alanna Baudinet was part of the 2011 Sydney Architecture Festival. The idea behind the project was to engage children in being resourceful. During the workshop children learnt how to weave materials into a simple structure to create one big cubby house in Hyde Park.
Workshop leader:
Sam Marshall and Alanna Baudinet
HAPPY TALK AT THE PAPER MILL
Happy Talk and The Paper Mill created an interactive, engaging, vibrant atmosphere with inspiring workshops and talks every day from 5 to 8 October, 2011. The aim was to engage with the local community working in office towers in and around Angel Place and the CBD to explore inventive ways to turn office waste such as paper, cardboard, signage into works of art.

Workshop leaders:
Gillian Christie, Frances Robinson, Sione Falemaka, The Fortynine.
TALKS
During Art & About Sydney, Happy Talk invited creative members of the Pacific Islands community to share inspiring stories every Thursday night from 6.30pm at the Happy Talk House. Speakers included Sione Falemaka, artist; Maryann Talia Pau, artist, Mano Ponnambalam, architect of the Happy Talk House and members of The Oceanic Society including Paula Latos-Valier.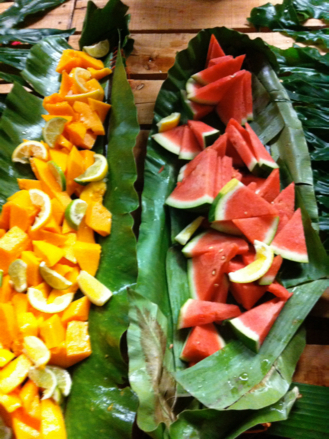 BULA TIME
The public was welcome to enjoy some 'Bula Time', Pacific Islands relaxation, in the Happy Talk House in Hyde Park.